Missing Link connects the dots between ExpressionEngine's control panel and the frontend of your site by providing an Admin menu to any logged in users with control panel access.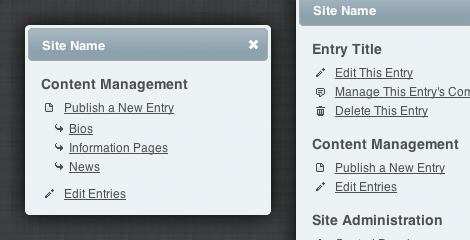 ---
Switchboard gives you instant access to data from all of the deepest and darkest corners of your ExpressionEngine control panel. It's also the quickest, most intuitive way to get from A to B in EE.
ExpressionEngine 2 Addons
---
ExpressionEngine 1 Addons
EE1 addons are only provided for archive purposes and will receive no further updates. Documentation is included with each download.