With ten years of experience building sites of all sizes, we can help, whether you're a small organisation looking to develop an online presence or an established business whose site is in need of an overhaul.
---
Services
Ground-up Site Development

If you are looking to develop an online presence for this first time it can be an overwhelming process. As so many factors determine the best approach for a project we will never ask you to choose from a fixed list of packages. Instead, we will provide advice and assistance throughout the planning phase of the project to ensure that everyone is on the same page. If you tell us what you want to achieve we'll worry about the best way to get there.
Site Rebrands & Overhauls

Even sites that were built to the highest standards will need a substantial or complete overhaul at some point. In addition to technical developments it's likely that the focus and goals of your organisation have will have shifted over time. Redeveloping a site is a great opportunity to take stock of what works and improve (or remove) the things that don't. In addition to implementing the latest technologies and migrating your old content we can help refocus your site to better serve your business and your users.
Content Management System (CMS) Implementation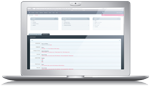 Sites need to be updated frequently to stay relevant and engage their audience. Finding the time to do this is hard enough, but if the tools you use are unreliable or overly complex then, at best, valuable time is wasted and, at worst, sites go without updates altogether. We can ensure that updating your sites is as simple as possible and will provide you or your team with training that covers every aspect of the content management workflow.
---